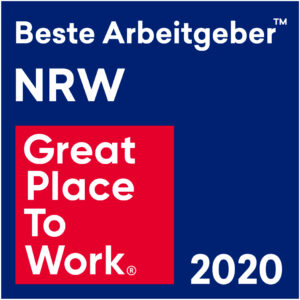 Viaboxx is one of the winners of the Great Place to Work 2020 in North Rhine-Westphalia. In its first participation, the company won the title awarded to the best companies to work in the region, which stands for credible management, for a high level of identification of the employees with the employer and for a strong team spirit.
The announcement was made this Friday, March 13, by the research and consulting institute Great Place to Work. Present in about 60 countries around the world, the institute recognizes and certifies companies with excellent work culture.
How it works
The evaluation process of the companies is performed in two stages. In the first, employees are invited to answer a survey and evaluate the company in aspects related to credibility, respect, fairness, pride, and camaraderie.
Among the aspects evaluated, the highest percentages of agreement of the Viaboxx team were related to the following statements:
"There is a "family" or "team" feeling here."
"People are encouraged to balance their work life and their personal life."
"I feel I make a difference here."
"When I look at what we accomplish, I feel a sense of pride."
"I can be myself around here."
The second stage involves a Culture Audit and evaluation of best practices in areas related to Hiring and Welcoming, Inspiring, Speaking, Listening, Thanking, Developing, Caring, Celebrating, and Sharing.
In addition to the regional competition, Viaboxx also competes for a position among the best companies in the Information and Telecommunications Technology sector in Germany. The results of the category will be announced on March 25th.
Award event postponed
The award of the winning companies was scheduled for this Thursday, March 12, in Cologne. The event was postponed in a preventive way, due to the COVID-19 outbreak.