For the second time in a row, Viaboxx has been awarded the quality seal "Innovative through Research". The recognition sign is granted by the Stifterverband, a joint initiative of German companies and foundations which cooperate for sustainable development through education, science, and innovation. To meet its criteria, it is necessary to prove consistent investments and engagement in research activities.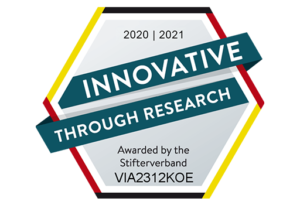 Valid for a period of two years, the first seal was received in 2018. The innovation orientation is, however, part of Viaboxx's history since the beginning. Over the years, the company has been involved in several research projects for technological developments related to its business area, as well as stimulating the internal production of knowledge.
For Ullrik Schwolow, Head of Business Development, investments in innovation are important because they increase the range of future options, keeping the company always at the forefront of the latest trends and technologies. "This adds excellence to the range of our products and services, as well as cultivates a more stimulating working environment with more development opportunities", he complements.