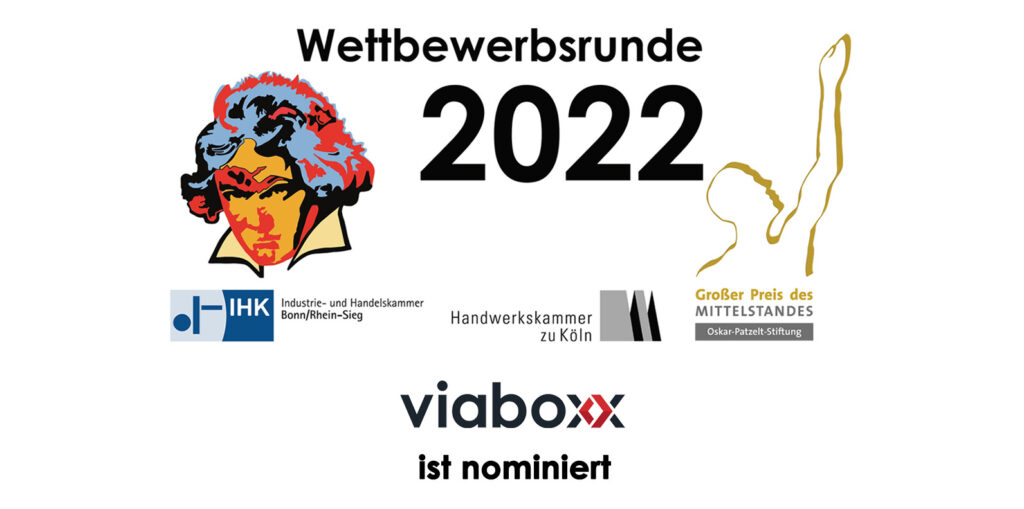 We are pleased to announce that Viaboxx is one of the companies nominated for the Ludwig 2022 Award for both the overall competition and the extra category "successful company succession".
Since 2013, the IHK Bonn/Rhein-Sieg (Chamber of Commerce and Industry Bonn/Rhein-Sieg), the Handwerkskammer Köln (Chamber of Crafts Cologne) and the Oskar-Patzelt-Stiftung SC Lötters (regional service office of the Oskar Patzelt Foundation SC Lötters) award medium-sized companies in the region Bonn / Rhein-Sieg. A nomination for the competition gives the regional medium-sized companies the opportunity to present themselves more to the public and to network with each other.
On January 19, the IHK published the nominees competing for the categories in the overall competition.
In the overall competition, the companies can be awarded as:
"Bonner Weltbürger" – Award for regional entrepreneurial commitment, creation of jobs and training positions, growth
"Tonkünstler" – Award for marketing, commercialization, and communication
"Humanist" – Award for CSR commitment and social relevance
"Visionär" – Award for innovation and digitalization
"Naturfreund" – Award for special commitment in the sustainability category
"BTHVN" – Overall winner in all categories
In addition, there is an extra prize for successful company succession. The company succession describes a successful handover to external or internal successors.
This year, 18 companies are competing for the overall competition and 7 companies for the extra category. We are the only company from Königswinter competing in the overall competition and for the company succession extra prize.
What comes next?
The nominated companies will share information about their qualifications for the different categories. They will also present themselves in a presentation about who they are, what they do, and what makes them stand out as a company. This presentation will be held on March 14, 2022.
The winners of the Ludwig 2022 Award will be revealed in an award ceremony on June 20, 2022.